Holiday Boat Parade
Posted by Ayelet Mullen on Wednesday, December 14, 2022 at 8:18:42 AM
By Ayelet Mullen / December 14, 2022
Comment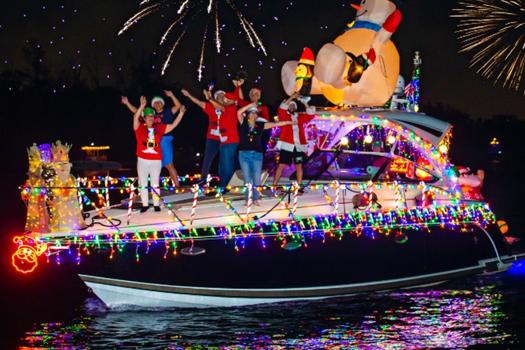 Photo: City of Boca Raton
A Winter Tradition in the Palm Beaches - The Holiday Boat Parade
A highlight for Palm Beach residents and visitors alike is the Holiday Boat Parade! Vessels are decked out with holiday decor as viewers cheer them along the Intracoastal waterway. Each Palm Beach city typically holds a boat parade annually every December as part of their holiday festivities. The boating community showcases their creativity, lights and decorations, and festive spirit for all to enjoy!
Everything You Need To Know About The 2022 Boca Raton Holiday Boat Parade
When is the Holiday Boat Parade?
The Boca Raton Holiday Boat Parade will be on Saturday, December 17, 2022 starting at 6:30pm. The parade ends at 8:30pm.
Where is the Parade Route?
The Boca Raton Boat Parade route will be along the Intracoastal Waterway beginning at the C-15 Canal, between the southern border of Delray Beach and northern border of Highland Beach. It is located near the Pelican Harbor community, Steinway Piano Gallery, and Wick Theatre. The parade travels south to the Hillsboro Blvd. Bridge.
What Bridges are on the Route and When Will the Bridges Open?
There are 3 drawbridges that will be affected with the Boca Raton Boat Parade, beginning with the Spanish River Bridge between Boca Raton and Highland Beach. The openings serve as timestamps for viewers and locals as they go about their holiday events that evening. The times below are approximate.
6:50 pm - Spanish River Bridge
7:20 pm - Palmetto Park Bridge
7:30 pm - Camino Real Bridge
Where Can I View the Parade?
Holiday parties and gatherings are sprinkled along the Intracoastal route displaying the exemplary delights of waterfront real estate in Boca Raton and Highland Beach. There are also public viewing areas and parking for visitors and residents not living along the route. Park and enjoy the festive lights and show at the three main locations below. There is limited parking at Wildflower and Silver Palm Parks, so it is important to arrive early and if you still need to find a spot, take a look at nearby Mizner Park. You may even decide to dine at one of the fabulous Mizner Park restaurants before the show!
Tips for Watching Holiday Boat Parades
Arrive Early - before start time. Most boat parades start at sunset around 6 to 7 pm.
Bridges close to traffic to allow boats to pass. If you need to cross a bridge along the parade route, see bridge closures above and make a plan.
Restaurants with outdoor dininag a re great places to view parades. Make reservations weeks in advance.
Public parks along the parade routes are great viewing points, but can get crowded so bring chairs !
Would you enjoy watching the parade from your own waterfront home? Visit our Intracoastal Community page to learn more about the many waterfront homes and condos in Boca Raton and the surrounding cities.
Your Boca Raton Waterfront Real Estate Specialists